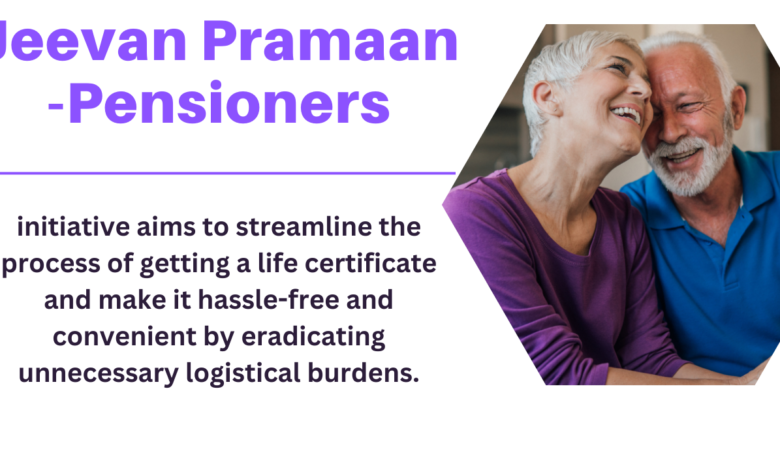 More than One Crore families in India depend on pensions for their daily livelihood !!
India has about Fifty Lakh pensioners of the Central Government and a similar number of the various State, UT and other government agencies. Apart from this, Army and Defence Personnel draw pensions exceeding Twenty-five lakhs.
One of the main requirements for pensioners is to present their life certificate to authorized Pension Disbursing Agencies to get their pension credited to their accounts.
Now, there are two options to get this life certificate:
The first one is to visit the Pension Disbursing Agency (PDA).
Or a much more convenient option is to have the Life Certificate issued by the authority where you have served earlier and have it delivered to the disbursing agency.
Digital Life Certificate for Pensioners Scheme, popularly known as Jeevan Pramaan is an initiative by the Government of India to digitize the complete process of securing the life certificate.
So, pensioners of the Central, State, and other Government organizations can register themselves on this portal and get a digital life certificate.
Detailed information about this service can be obtained from any Jeevan Pramaan Centre, or you can also download the mobile app and avail its benefits.
This initiative aims to streamline the process of getting a life certificate and make it hassle-free and convenient by eradicating unnecessary logistical burdens.
How does Jeevan Pramaan work?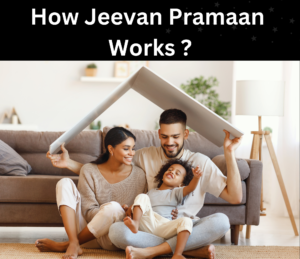 Jeevan Pramaan uses the Aadhaar platform for the biometric authentication of pensioners.
So you have to provide your biometrics, i.e., fingerprint, and authenticate yourself.
Once you have successfully authenticated yourself, the Jeevan Pramaan website will generate a copy of your life certificate, which you can download in PDF format by providing the Jeevan Pramaan ID.
This Life Certificate gets stored in the Life Certificate Repository, so Pension Disbursing Agency can also access and download it.
How to get the Digital Life Certificate?
Generating the digital life certificate cannot get any simpler.
With digitized services, you can generate the Life Certificate sitting at home by downloading the PC/ Mobile application.
Or you can visit the nearest Jeevan Pramaan Centre and get yourself registered.
This would require basic details such as your Aadhaar number, Pension Payment Order, Bank Account, Bank Name, and Mobile number.
How to submit the life certificate online?
Every year, to draw the pensions, pensioners of the central, state, and other government organizations have to submit their annual Jeevan Pramaan to the pension disbursing agency (PDA).
To make the process convenient, the Government offers different ways to submit this life certificate.
Jeevan Pramaan Portal
Pensioners can submit their life certificates digitally through the Jeevan Pramaan portal web or Android application. For this, the pensioner has to authenticate himself by submitting his fingerprint and providing necessary details such as name, aadhar number, mobile number, PPO number, disbursing agency, bank account number, and more.
The only drawback in this process is that for the biometric verification, you would require a 3rd party fingerprint scanner, which is a major cost. The life certificate will be generated within a few minutes after successful biometric verification.
India Post Payments Bank (IPPB)
In November 2020, the Department of Posts and the Ministry of Electronics and Information Technology launched a biometric-based, digital door-to-door service for pensioners to submit their digital life certificates through postman. To avail of this service, the pensioner has to provide their Aadhaar, mobile number, PPO number, and pension account details to their area postman and register their fingerprint to generate their digital life certificates within a few minutes.
Doorstep Banking
Doorstep banking is offered via an alliance having 12 public sector banks. Through this service, PSB Alliance collects life certificates of pensioners through doorstep banking, where a DSB agent comes to the pensioner's home to provide the service. There are three different mediums through which a pensioner can avail doorstep banking service. It includes a mobile application, a toll-free number, and a website.
Designated Official
It is the best option for pensioners who do not wish to visit the Pension Disbursing Agency, especially senior citizens. These pensioners can get their life certificate signed by a designated official, so they need not make a personal appearance. As per the Central Pension Accounting Office (CPAO), a pensioner whose life certificate is signed by a designated official need not appear in person in a PDA. Individuals can find a list of all the eligible Designated Officials in annexure 1.
Face Authentication
This unique mobile face recognition technology has been launched recently. This app is especially helpful for senior citizen pensioners who cannot submit their fingerprint as biometric ID because of various reasons. With face recognition technology, pensioners can submit their life certificate based on the UIDAI Aadhar software. For this, you need to take a live photo of yourself (pensioner) and upload it online to the Jeevan Pramaan mobile application, which will act as proof of your life certificate.
This face app works on almost all android devices, and the best part is that it does not require a biometric device as it uses the phone's camera to click the user's selfie and matches it with the Aadhar card photo.
This Digital Life Certificate will be stored online and can be accessed by both – you and Pension Disbursing Agency.
Conclusion
Among all the options to submit the life certificate on Jeevan Parmaan Portal, the best one is the Face Authenticator app.
The Face authenticator app is the cheapest and the most convenient way to submit the life certificate, as you won't require to buy any device (fingerprint scanner), nor do you need to step out of your house to get it done. The only condition is that you need an android phone to access the application, as it does not work on IOS devices.