Lenovo just unvieled a new product the "lenovo yoga BOOK" and with this device in all probability they are creating a new category of products & thats why the lenovo yoga BOOK is unlike any laptop or a tablet available in the market rite now, it has the form factor of a laptop but it also has the touch sensitiveness of a tablet.
Hardware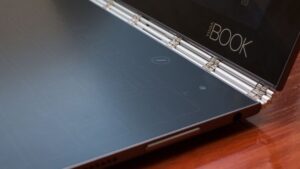 weighing just under 700g`s this is the lightest netbook available in the market hands down, the lenovo yoga BOOK boasts a intel atom processor, Full HD touch screen, SD card slot and 8500Mah battery and nano sim card slot for 4G connectivity
The magnesium and aluminium body gives the lenovo yoga BOOK a very premium and sleek kind of feel.
Virtual Keyboard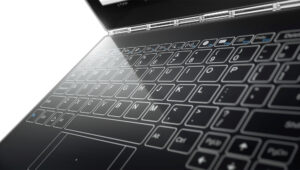 The USP of the device is the virtual keyboard or as lenovo says "Hollo Keyboard", just click a button and the touch sensative surface comes to life with back lights, giving you the impression of a full size laptop keyboard with multiple force feedback options, the keyboard does take some time to get used to but the force feedback option really helps its case,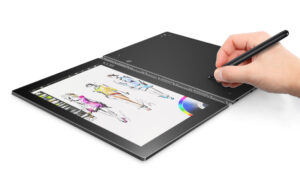 switching off the keyboard will turn the surface into a regular touch surface, which will be able to detect around 2000 levels of pressures along with your handwriting, you can write using the lenovo real pen (which is included n the box) on the surface or you can use a real set of paper and start writing, the system will record the handwriting as is (pretty cool ha)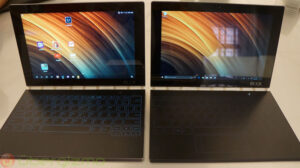 And yes, the lenovo yoga BOOK comes with either android or windows operating systems, however the battery backup will very for both the Operating systems with android giving up slightly better backup.