Assassins creed origin blurs the line between a sequel and a prequel as it takes us to the beginning of the assasins brotherhood.
The last game seems like the story has moved towards the modern era and it seems like a concision decision on the publisher part to push Assassins creed origin`s storyline behind to the AD than BC`s.
The plot
Assassins creed origin is set in ancient Egypt and this time the central character is called Bayek, who is a Medway ranger who embarks on a revengeful quest. Set in the era of cleopatra and Julius ceaser, Bayek will cross paths with many historical figures.
While we cannot say that the game is historically accurate, we can certainly appreciate the environment created, which brings us to the next segment
Graphics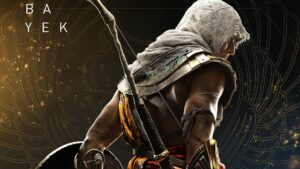 Assassins creed origin never fails to amuse in this department, the environment and attention to detail  (ancient egypt) is astonishing,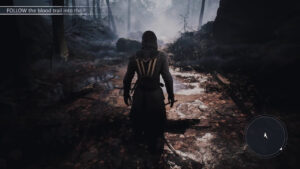 Game lighting is something worth mentioning, from  the sunny days to the deserted nights with full moon the use of ambient lighting in each and every scene makes the game stunningly beautiful to ponder upon, the environment overall is lush and vibrant.
Gameplay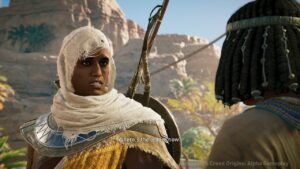 As with most assassins creed games, the gameplay will ask you to do three main activities, they are climbing, sneaking and fighting.
Assassins creed origin is surprisingly educational in bits and pieces, as bayek you will visit the famous sites like the gladiators arena, cities like Alexandria etc and it quite fascinating to experience these places first hand.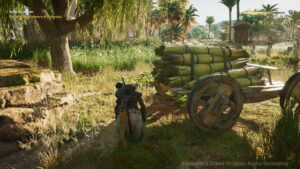 And if you are playing "stealthy" the game is bound to frustrate you damm good unpredictability of the enemys, which sometimes makes you feel that the game is unfairly alerting your enemies about your position.
Combat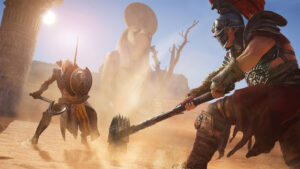 The combat system in Assassins creed origin has improved drastically, now if you switch your sword without going near the enemy, your sword will not hit the enemy, which means that the system locks you to a enemy but you need to move in order to position yourself the right way to hit the enemy effectively, this system is not perfect but its still better than before.
Conclusion
While Assassins creed origin has dropped some of the "not so good" traits of the services and evolved as a lean and better shaped games, however don't mistake it for a small game as you can spend upwards of 50 Hrs playing the game and completing various side missions.
The game looks extremely polished and the environment is highly engrossing, however avoidable bugs and mundane tasks makes the game boring in bits and pieces,
Our Rating for the game is 8/ 10