FnD is a relatively new brand launched in india and they are quickly gaining ground in this market with good sound and neatly designed speakers.
Lets start off with the design

This soundbar T-180x speaker looks one of the sleekest speakers that we can get at this price point,  the speaker is wall mountable or it can also sit on the table horizontally, either way the speaker looks gorgeous in the living room.
To watch the video review click here
Connectivity and power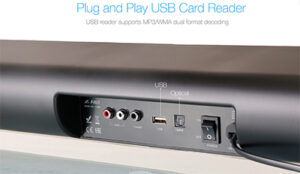 FnD soundbar T-180x offers all the popular modes of connectivity, it supports coaxial cable, optical cables, standard Tv connector jacks and also bluetooth, however the speaker dosent have an inbuilt battery and it need a constant power source, considering that the speaker is designed to be used in-house on a non-mobile way, lack of a battery is a non existent issue.
Sound quality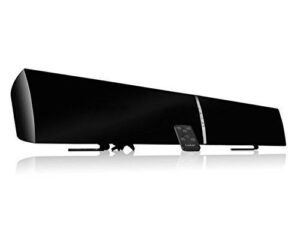 The sound quality of FnD soundbar T-180x is crisp and the sound does-not distort much at higher decibel level, looking at at the speaker size the bass is more than enough, if we compare FnD soundbar T-180x with high quality speakers which cost around 70% to 80% more than this speaker with smaller form factor we can say that those speakers (BOSE, HARMAN etc) makes equally loud sound with slightly better quality.
To watch the video review click here
In-Box Assecories
The FnD soundbar T-180x comes with auxiliary cables, aux to coaxial converter, a remote controller and some nuts and bolts to wall mount the speaker
Pros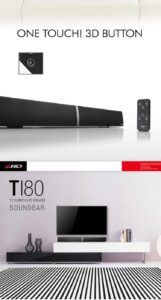 The loudness of sound is adequate with 4000 PMPO, The sound is adequately crisp but don't expect "Bose" or "Harman" level of crispness, if you are an average listener you will not even recognise the difference, however audiophiles can keep themselves away from this product.
Cons
As it might be evident from the design of the speaker that BASS is not one of the strong point of FnD soundbar T-180x, if you are looking for something with deep BASS than this is not the speaker for you, if you are a party animal and you want things to vibrate at the highest decibel level than this speaker is not for you, and yes if you want WiFi speakers than this speaker system is definitely not for you, coz it dosent have WiFi 🙂
Since the design is "BAR" the surround sound experience that traditional 5.1 speakers offer will not be possible in this speakers.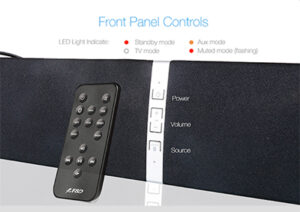 One major drawback is that the speaker dosent memorises user settings, every time the speaker is powered off or disconnected from power source, a user has to Turn On the speaker by pressing the power button, choose the input source and set the volume, all these three steps a doable via the "remote" that is provided with the FnD soundbar T-180x system as well, we think this issue is mainly because the speakers dosent have a inbuilt battery and memory to save the user settings.
Conclusion
All in all, FnD soundbar T-180x is a good / above average product, the strongest aspect of these speakers is the design, the speaker looks really sleek in the living room, the sound quality is adequate considering the price point of the product,
Our rating for his product considering the price point and the experience it offers
9/10
Watch the video review below