Top Web 3 games – P2E and NFT based games
Web 3 gaming (P2E Games), popularly known as GameFi, has transformed the crypto world, acquiring 49% of the blockchain usage, according to the Blockchain Game Alliance 2021 Member Survey and Report.
In 2021, there has been a massive shift in blockchain-based games from being a niche subset of the gaming industry to an entire segment. In the same year, venture capitalists invested over $4 billion in gameFi, and on average, 1.4 million unique active wallets have been connected to dApps daily.
One of the main reasons behind the development of the GameFi industry is the growth of NFTs (non-fungible tokens). As per the Blockchain Game Report 2021 from DappRadar, "gaming" NFTs had over $4.5 billion in trading volume and accounted for 20% of the total NFT sales in 2021.
The highest chunk of this growth was cascaded by the massive growth of play-to-earn (P2E) tokens, especially from one game – Axie Infinity.
If you're naive and just starting out, P2E (Play to earn) games are just what the name suggests—games where the users get rewards to level up within the game world and win. These rewards are distributed in the form of cryptocurrencies or NFTs.
While this rapid popularity of crypto gaming indicates the shared future for the crypto and gaming industry.
However, the truth is most P2E games are still in a nascent stage and have an extremely low user retention rate.
One of the main challenges in gaining user retention is the presence of very few successful crypto games. Most games developed in the crypto industry are only copies of other popular projects without any advancements.
With successive backlash, developers and investors have changed their views regarding the GameFi industry. They are now working towards deployment of new tokenomic models that bridge the gap between gaming experiences and monetary incentives. The search for new ideas is in progress.
Here are a few of the top P2E games of the Web 3 industry that you can try your hands on:
1.Axie Infinity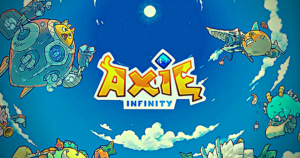 Axie Infinity is one of the most popular P2E games that use NFTs and cryptocurrencies as rewards for its users.
It runs on the Ethereum blockchain and is the most expensive game on the blockchain.
The main reason behind the high popularity of Axie Infinity is its innovative tokenomics model that offers good economic incentives to users.
It is the first Ethereum NFT game to hit $1 billion in sales.
In this game, players need to collect 'Axies', which are basically NFTs, to play and complete the tasks in the game. These NFTs allocate unique proof of ownership to players.
Here, the players aim to battle, breed, collect, raise, and build kingdoms for the Axies.
Also, the players can use these Axies in the Arena mode or fight enemies in the Adventure mode.
This game model provides two sets of tokens for players, Smooth Love Potion (SLP) and Axie Infinity Token (AXS).
The AXS token is the governance token, whereas the SLP token is distributed as in-game rewards and can be sold on exchanges or in-game marketplace to acquire new axis or other items.
Both these tokens, SLPs and AXS can be exchanged in different decentralized exchanges (DEX) for cryptocurrencies. The axis can also be sold as an NFT on the in-game marketplace or on NFT marketplace.
In addition to making money by playing the game, Axie Infinity is a big attraction for NFT collectors because of the high demand for Axies across exchanges.
2. Decentraland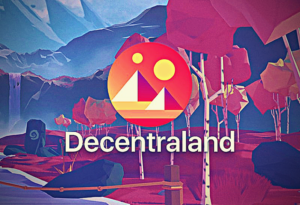 Decentraland is an Ethereum-based 3D virtual-world platform where users can buy or sell lands and plots, explore, socialize and own characters as NFTs.
On Decentraland, the main cryptocurrency is MANA, which players can use in the in-game marketplace to buy properties or characters. These properties and characters are sold as NFTs in the market.
The best part about Decentraland is that it gives an exact metaverse feel.
3. The Sandbox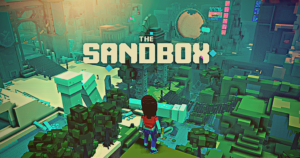 The Sandbox is quite similar to Decentraland, where players can build, own, and monetize their gaming experiences in a 3D virtual world that works on the Ethereum blockchain.
On Sandbox, the utility token used is 'SAND', which players can use to make transactions in the marketplace and trade digital lands.
This token can also be used for exchanging other NFTs and cryptocurrencies.
Apart from making extra bucks from the game, Sandbox also offers free software like VoxEdit and Game Maker, using which players can create ASSETs and experiences, such as games, dioramas, and art galleries, and monetize them to earn passive income.
4. Splinterlands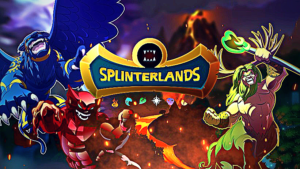 Splinterlands is a fantasy-themed unique collectible card trading game based on the Hive blockchain.
According to DappRadar, Splinterlands ranked as the number 1 blockchain game of Q2 2022 in terms of having the most active players among all the blockchain games.
It is similar to classic card games, but Splinterlands is a more dynamic and quick game that lasts only a few minutes.
Here, every card is a non-fungible token that players can use to battle for rewards, trade on marketplaces, or keep with themselves as a collectible.
It's time to leverage your gaming skills and make some extra bucks on the side while having fun !!s