The great big thing that I and probably many of us were waiting for is finally here. Yesterday AMD's CEO Lisa Su officially announced the AMD RYZEN processor lineup. These processors are no joke. They are designed to compete with top of the line Intel core i7 processors, but at a much lower price.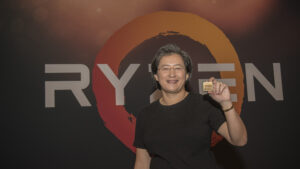 This is the dawn of a new era for AMD, its not the same old power guzzlers any more, with the introduction of AMD RYZEN processor lineup they have jumped into the 14nm building process and as a result these are very power efficient and cool processors (Cool in both ways), such that their highest end model has only 95w max TDP. See, now we are taking business.
Let's talk about the AMD RYZEN processor lineup in details.
Features
All new RYZEN processors will feature Dual Channel DDR4 2400Mhz Memory on an AM4 Platform, with latest Motherboard partners already rolling out their top class X370 Chipset boards, AMD RYZENS' are going to be fun. 24 PCI lanes, XFR (TURBO MODE), AMD Sense MI Tech, 8cores, 16Threads, and 20MB (L3+L2) Cache. One thing that I know is that the 1800X has 4.8 billion transistors featuring 200m of internal wiring. Mind blown. Every RYZEN comes with their own AMD WRAITH RGB Cooler.
Performance And Pricing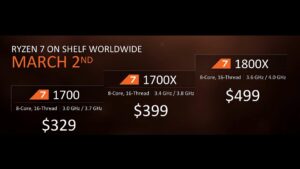 These RYZEN processors are high end and are meant to compete with Intel's high end processors. THREE RYZEN processors were unveiled so far and with the RYZEN 1800x being on the top end of the spec sheet, RYZEN 1700x and the RYZEN 1700. Let's talk about pricing and performances now.

[table id=1 /]
The RYZEN 1800x beats Intel's i7 6900k at some benchmarks, and literally performs quite good, and at a price of $499 beating Intel's $1000 price mark.

[table id=2 /]
The RYZEN 1700X comes at around $399 and it takes down Intel's i7 6800k by some margin.

[table id=3 /]
The RYZEN 1700 competes against the Intel's i7 7700k and surpass it by quite some points. But this processors cost quite the same so, it would be fun to see how they perform practically instead of the synthetic benchmarks.
Moreover these RYZENs' beat Intel i7s' at Cinebench r15 nT, so real world performance is much anticipated once they come for testing at around March 2. But, no doubt these processors will give Intel a run for their money.
---
Sense MI Technology: It offers new levels of performance, cooling, efficiency and smart prediction.
---
Stage 1: Pure Power
Monitors temperatures, speed and voltage.
Adaptive control manages real time for lower power usage.
Closed loop control with infinity fabric.
Stage 2: Precision Boost
Works in tandem with pure power control loop to optimize performance.
On the fly clock adjustment without halts or queue drains.
High precision tuning with 25 Mhz Increments, automated.
Stage 3: XFR
For enthusiast cooling.
Permits frequencies above and beyond ordinary precision boost levels, tested with Water and LN2 coolers, air too and is fully automated.
Stage 4: Smart Prediction
Builds a model of decisions driven by software code extensions in a fully artificial network.
Anticipates future decisions, pre loads instructions and choose the best path of processing through CPU
Stage 5: Smart Prefetch
Anticipates the location of future data access by application code.
Sophisticated learning algorithms model and learn application data access patterns.
Prefetches vital data into local cache for immediate use.
*This is only what the Sense MI tech implies to provide. I don't know how much of it is implemented into the RYZENS.
Conclusion
The AMD RYZEN processor are totally worth it. Off course its quite a lot of money when you are aiming for a budget or a mid-range gaming build where anything from an i3 to an i5 would works just fine. But these AMD RYZEN processor are aimed at production stations and meant to compete with 6800k or 6900k at a much cheaper rice range So, surely AMD RYZEN processor would help in workstations and high end gaming machines.
Our rating of these processors based on the price point is 9.5/10