Big Bang Racing
is an Adventure – Puzzle – Social – Racing game, we know the description is confusing but,
let us explain.
Lets talk a little about the game Concept first
---
---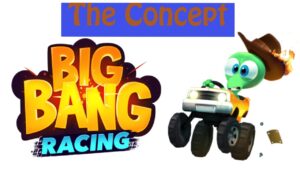 Big bang racing is a arcade puzzle game presented as a unique racing game with elements of Adventure and social media taking the centerstage of the game.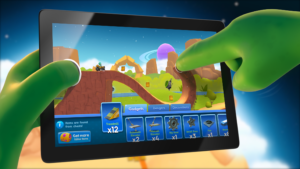 The player plays on tracks designed by other players and collects treasures which in turn helps the player unlock higher levels, customise the character and Climb the leaderboard.
The Tracks include High jumps, Puzzling driveways, Anti gravity wind tunnels, bombs, Traveletors and many more interesting bits.
Gameplay
---
---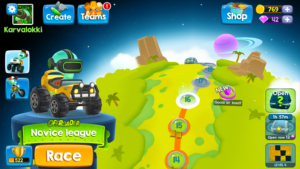 At the main menu the player can swipe around the globe to select the desired track to play or the player can choose to compete on an league or the player can join a event to compete on a single track
Or
He can select one of the floating tracks, and checkout if its good or not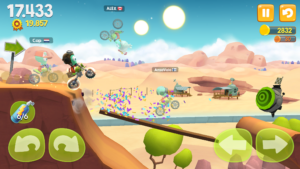 Gameplay requires the player to think on there toes, mindless accelerator race and hoping on will not win you the race, the player needs to calculate the accelerator, the jump height or the flip angle, all these factors count and this makes the game more challenging.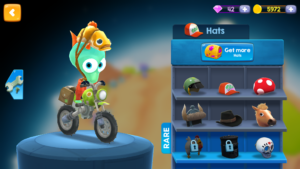 Vehicle customisation options are plenty, from changing the shock absorbers to increasing the torque, changing tyres for better traction almost all the credentials are customisable
the vehicle physics is very very realistic.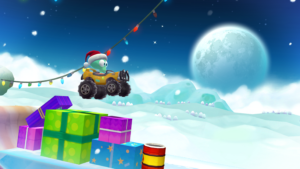 The social aspect of the gameplay is very strong, almost all the tracks are user generated and you will be competing against the lap time of somebody else around the world, so in short you will be playing a user generated track against an user generated leaderboard.
Along with this social media is deeply integrated into the gameplay, and thats why you can always share your
special moments into the connected social media platform
Graphics
---
---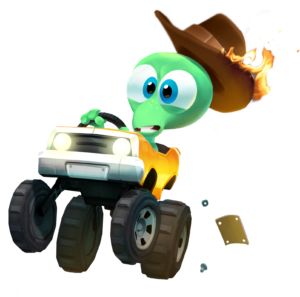 The graphics are minimalistic, the vibrant colours and the round edges gives the game a very cute look, the rendering is smooth but in some cases we can see the graphics shuttering, we believe this is a hardware issue since we are using an iPhone 6 Plus which is a two+ year old phone.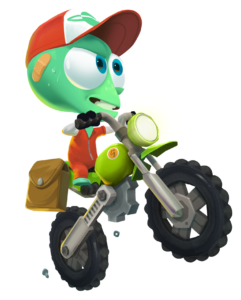 The vehicle Physics, the the jump trajectory, the vehicle shock absorbers, vehicle traction every aspect of the game is top notch and keeps the player wanting more.
Conclusion
At last we would like to conclude that the game is very addictive and fun to play and with user generated tracks and live world opponents the game can grow organically on its own, the game succeeds in keeping the player engrossed in the gameplay and keeps the competition spirit alive
Our rating for this game is 9/10
Watch the video review below