Video Streaming services (Comparison Review)
Lets talk about the video streaming services or apps (other than you tube) that we have in india, Frankly, we have a bunch of video streaming apps available & each of these apps can be categorized into Free & premium services, some apps have both free and premium content, some have no free content and some have only free content with ad support.
Eros now Vs Spuul Vs Hooq Vs Hungama Vs Bigflix Vs Netflix Vs Hotstar Vs Ozee
To Watch the video review Click Here
We will talk about the four services that we think are doing good and fighting for the top slot. All of these services are accessible through web and as well as mobile App,
Eros Now vs Hungama play vs Netflix vs Hotstar
Some important point are
· The Netflix app is available in wide variety of devics like Smart Tv, Game consoles etc
· All the mobile apps support chromecast.
Eros now: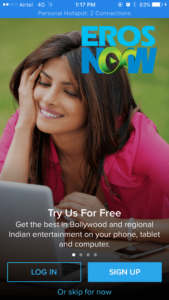 They have good collection of movies, songs , Music videos , Tv soaps & web exclusives (blazing bajirao), In terms of Movies they have good collection of movies on Free and paid subscription basis, they have an web exclusive called blazing bajirao, based on the movie, then some pakistani TV soaps from HUM TV & then Indian TV soaps like cripe patrol from Sony, Then they have a separate category for movies where the movies are segregated based on popularity, Gene & free
Then, songs are also similarly categorised into number of playlists & albums & top tracks and gene, they follow the hybrid model of free + subscription services, we think this is the rite model to go in India, First they have free subscription, where you get access to selected movies and unlimited access to Music & TV shows, then they have 60Rs subscription, u get access to everything but no Subtitles and HD streaming
Then the last one is 120Rs / month and it gives you access to all contents in HD and with subtitle
To Watch the video review Click Here
Hungama play: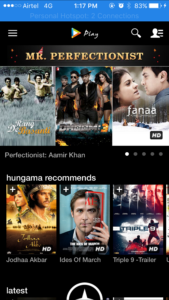 Hungama has a good collection of Bollywood and Hollywood movies, if you are interested in Hollywood movies, probably Hungama is the best bet in india (better than Netflix in india for Hollywood movies, since the Netflix catalogue in india is very limited
Some drawbacks of this service are,
They don't have tv soaps or sports content, and thy have a very confusing pricing structure
They have a monthly subscription plan of Rs.300 and on top of that they have something call "movie renting" where you can rent a single movie or a bundle of movies created by hungama and the rent prices vary from movie to movie
Keeping these things aside, if you just look at movies catalogue , this is probably the best catalogue you will get.
To Watch the video review Click Here
Netflix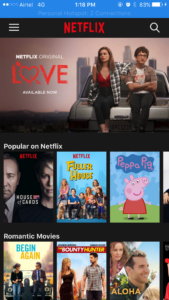 You probably know that the Usp of Netflix is "Netflix Original" content, Like house of cards which is one of the most awarded shows ever, Then you have narcos, which is critically acclaimed and one of the top rated shows in Netflix worldwide, They also have a seperte category for kids, where you can find all kids related shows like angry bird, barbie and all
They have very limited Indian content, if you are looking for indian content to consume then netflix is probably not the solution for you
Now, Let's talk abut the pricing structure, they don't have any free subscription but first month is free, this, byfar is the costliest of all the service available in india, starting from Rs 500/ month to Rs 800/month , where you can watch specific shows in 4K if you have supporting TV, and a super fast net connection of 16mbps or more
To Watch the video review Click Here
Mighty- Hotstar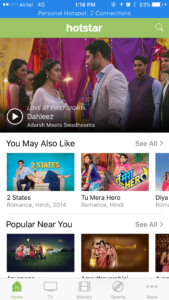 The reason why I said mighty while introducing hot star, is because of the sheer size of the catalogue that it has, from Hollywood to regional to Bollywood movies , TV soaps and sports catalogue and the USP of hot star is live sports streaming, live ISL matches live pro kabaddi matches and live cricket matches.
One unique feature which is available in hot star is Offline viewing, you can save some selected contents for offline viewing like movies or tv soaps, but mind you, all content are not downloadable.
Lastly, this is a add supported platform and you don't need to subscribe to this service, it's all free, but your experience of viewing might be compromised by those untimely add in between your movie or tv soap
At last , we may conclude that each app Has its own plus points, Eros is good in Indian movies, hungama is good in Hollywood movies, Netflix is good in "Netflix Originals" and hot star is good in "Live Sports"
Watch the video review by bbhagawati below