Alto's Odyssey: A sequel to the widely acclaimed game Alto`s Adventure
Alto's Odyssey is a sequel to the widely acclaimed game Alto`s Adventure, which has won many awards worldwide for design, gameplay and sound, We are here to see if this newest iteration of the game "Alto's Odyssey" can live up the hype and expectations or not.
To watch this review Click Here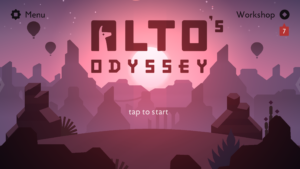 In this review we will be considering three factors
3 .Sound
Lets Talk about Gameplay first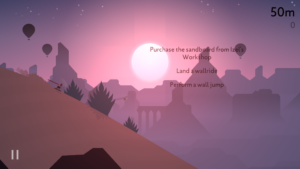 As a player you will again control a character skating through the hills, where you will jump, you will flip and you will collect rewards on your down the mountain, the In game controls in Alto's Odyssey are same as in Altos Adventure, a tap on screen to jump, and hold the tap to flip mid air during the jump and land on your toes while skating.
To watch this review Click Here
New gameplay elements have been introduced in this sequel, now you have water, balloons, wreckages etc in the environment and each of these elements contribute to the gameplay in its own way.
To watch this review Click Here
The points system in Alto's Odyssey is the same as the previous game, such as mid air flips increases ur speed and points, multiple flips will multiply your points and skiing on the railings will provide you more points.
Graphics
Graphically Alto's Odyssey presents a very high level of refinement, this time in Alto's Odyssey, Alto is skiing through sand dunes not on the ice capped mountains and with the introduction of new gameplay elements like balloons, water fall, ship wreckages in  the environment the gameplay has become even more challenging.
To watch this review Click Here
The Vibrant colours and the dynamic weather and daylight system of "Alto's Odyssey Environment" poses new and unique gameplay challenges and at the same time gives a soothing feeling.
The graphics run on a 2D like environment and it runs silky smooth on our ages old iPhone 6 plus, which gives Alto's Odyssey a very very vide reach of compatable handsets, however mind you, the game has not been released for android till date, the developer has promised that Alto's Odyssey will be eventually released on android, but they haven't specified a date yet.
Sound and Music
The sound system of Alto's Odyssey is possibly the "best of the best" aspect of the game, while the game dosent disappoint us on any of the fronts like graphics and gameplay, but in case of sound design and music Alto's Odyssey is just leaps and bounds ahead of the pack and it becomes one of the best,
To watch this review Click Here
The relaxed and soothing nature of the background music and soft environmental sound, transforms the player into the zen mode
Oh yes Alto's Odyssey has the ZEN mode too, which lets you play the game without worrying about numbers, collectables or distances, just put your head phones on a transform yourself into oblivion.
Conclusion
At last we would like to conclude that Alto's Odyssey is a worthy successor to the hugely popular game Alto`s Adventure, the game has moved forward in every aspect we can count and our suggestion is that you play this game with your headphones ON.
Our rating for this game is 9.5/10
Watch the Video review below