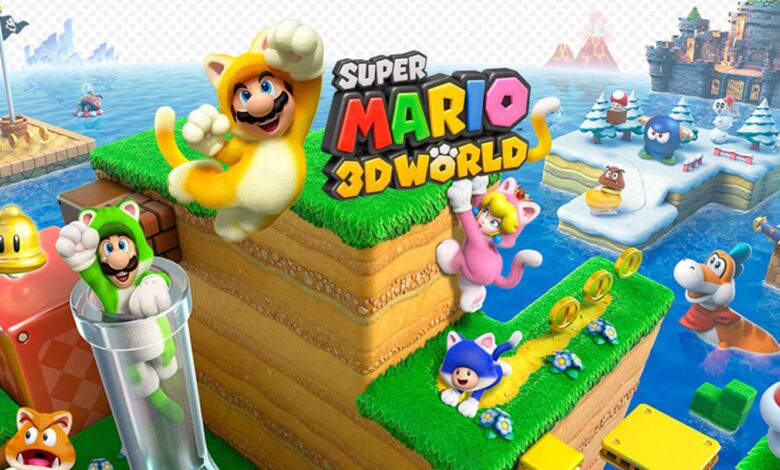 Create your path and bounce to victory..!!
Sandwich between sublime planet-hopping and absurdist delights, Mario's Wii U outings are very much the black sheep or perhaps colorful cats of the franchise.
Released on February 12, 2021, Super Mario 3D World + Bowser's Fury for the Nintendo Switch is a pandemic-friendly online multiplayer game where the music will guide you and every other concept is equally gratifying yet simple.
Storyline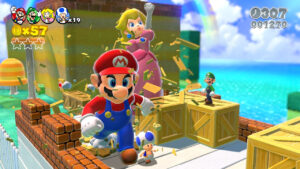 The main storyline of the game revolves around Mario and his friends Luigi, Princess Peach, and Toad who have to rescue the Sprixie Kingdom, its ruler, and Princess Sprixie from the devil Bowser. The devel Bowser has kidnapped six of the Spirixie princess and these friends together team up and used their catlike abilities like climbing and scratching in rescuing the princesses, ruler, and the kingdom.
Gameplay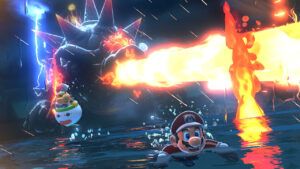 Super Mario 3D World is a never-ending fountain of a fun game that offers 3D freedom with 2D gameplay levels where up to four players can control the game characters (Mario and his friends). Each of these characters owns unique abilities and controls differently, and before beginning, the level player can select any of the five characters to use.
Each level of the game includes defeating enemies and collecting Green Stars on the way. The levels are cleared by reaching the Goal Pole at the end by losing life or running out of time. To complete the game player needs to collect all the green stars and stamps and clear the complete world browser and all the bonus worlds.
In-game puzzles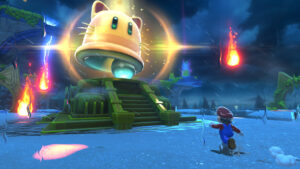 Compared to the previous variants of Super Mario, this one is slightly more puzzle-focused. The gameplay is not a cakewalk, and players need to use a bunch of power-up features to make it till the end. Sometimes you will flip between jostling for coins and working with Mario and friends to get through a tricky series of pits and dawdling Goombas.
The game also includes a puzzle-focused series of levels called Captain Toad's Adventures with Captain Toad playable.
Soundtrack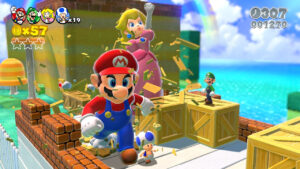 We applaud super Mario 3D World for its crisp, irresistible graphics and excellent soundtrack. The soundtrack was composed by Mahito Yokota, Toru Minegishi, Koji Kondo, and Yasuaki Iwata, and performed by the Mario 3D World Big Band. One of the main qualities of the Super Mario 3D is its quick-changing jazzy soundtrack that guides the players in reaching further levels.
Graphics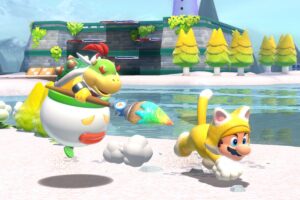 Super Mario 3D has incredible graphics and Super Mario has won IGN's 2013 Best Wii U Graphics. The Wii U GamePad allows players to enjoy the touchscreen, and the microphone to reveal hidden blocks, hinder enemies, activate mechanisms, and use Off-TV Play during the gameplay. The game is compatible with the Wii Remote, Nunchuk, Classic Controller, and Wii U Pro Controller.
Our Closing Thoughts
Super Mario is a fun game that is perfect for pandemic time passes with friends and family. A unique storyline, crisp and irresistible graphics, a jazzy soundtrack, and an ideal amalgamation of challenges and prizes make the game worth it. With gyro control in the dock mode and touch screen in single-player mode, the game gives enough options to choose from. So, with no further delay, get your hands onto it as I'm pretty sure you are going to love it.
With no second thoughts, we would rate Super Mario 3D World as 8 out of 10.