Quantum Break is a fast paced sci-fi game developed by Remedy Entertainment.
Plot:The game is based on a fictional phenomenon of alteration of time. Paul Serene (a friend of the main character who later becomes the villain) develops a time machine, but things go wrong and a time glitch is created, which gradually causes time to cease. To stop this Jack Joyce and his brother Will set out for a journey to restore the glitch.
Gameplay: This third person action title is a great fun to play as this game has a whole new feel to it. You play as Jack Joyce, the main protagonist of the game as i mentioned earlier and at times as paul too. Both are equipped with time bending super powers, this unique feature makes the game even enjoyable. The whole gameplay is like a narration, which eventually feels like a controllable movie due to the advanced graphics. Gameplay is refreshing due to the much improved AI.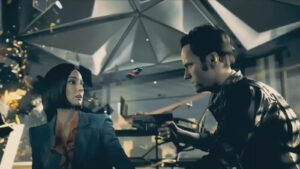 Characters and objects have live interactions.
you get time super powers like speed dodge, time stop, focus etc. During time halt, you can grab ammo of your enemies and they will not move. How fantastic! You can even halt enemies and fire at them to kill'em all. Special transitions of bullets fired will give you a totally new feel. Also there are junction points within the game which will lead to separate storylines just like Far Cry 4. The future story will depend on your choice. So chose wisely. About the graphics, they are awe inspiring.
Graphics: The new game engine features directX12 along with new graphics technologies, this game requires a lot power under the hood,  so an i5 4th Gen. Along with a GTX 760 and 8 GB Ram is the minimum recommendation for the game. Any thing higher will make the game playable with all the bells and jingles turned on. But the optimization levels for PC are not great so a little compromise have to be made on the performance.
As i have started playing the game only a few days ago, i may not be able to point out all the available feature and may have missed some features, Anyways you can always play the game & explore the rest.
The Game in currently available for Xbox One and Microsoft Windows 10. Quantum Break, is one of the most anticipated games of 2016.
I found this game interesting & good to play, but it may not be everybody's cup of tea, Our verdict for this game is 8/10.
Watch the video review by "IGN" below